Musicianship in KKΨ: Defining a Core Value
 by Rod Whiteman, NCD Governor, KKΨ |
[dropcap style="font-size: 60px; color: #0099FF;"]T[/dropcap]here is absolutely no doubt that music should play a central role in Kappa Kappa Psi. Although music surrounds the purposes and structure of Kappa Kappa Psi, students struggle to identify their role in the music-making process. Despite the lessons of the ritual, the countless workshops, and the expectations made clear by the national leadership, students are unable to define "musicianship." The result is students and national leadership talking past each other instead of truly communicating how our fraternity can meet an essential obligation: producing better musicians for our bands. Instead of a mutually frustrating conversation, one in which the national leadership keeps pushing students to do something that students already think they're doing, we should step back and acknowledge a misunderstanding. Students think they're promoting musicianship – by one definition of musicianship. However, band directors and the national leadership are assuming a completely different definition.
Why Define This?
First, we must understand why defining this concept is necessary. Beginning in our membership education programs, we learn that music should be a consideration in every Kappa Kappa Psi activity. We know this because of the Five Purposes in the national constitution's preamble. We know this because of the Ritual. We know this because our entire organization was founded on the premise that college bands are a unique and necessary cultural component.
If you were to ask college band directors what the single most important service Kappa Kappa Psi students could provide for their bands, their answers would often be "be in the band." Directors want their bands to sound good, and directors want students to play in their bands. Therefore, directors want students in their bands who make their bands sound good. Consider the opposite. Would any band director seek out students who make their bands sound worse? Of course directors would say that bands provide great leadership, school spirit, and teamwork opportunities for young men and women, and rightfully so. But ultimately, band directors are responsible for having the best possible ensemble performing the best possible literature. They cannot do that without having the best possible musicians.
The problem is now becoming evident. Kappa Kappa Psi is committed to promoting the "advancement of college and university bands through dedicated service and support to bands." However, are we truly doing this if we are not supplying our bands with the best possible musicians? For Kappa Kappa Psi to tackle the problem of musicianship, we must agree on what musicianship is. By defining this concept, we can see a clear and shared path toward our core mission.
What Musicianship Isn't
When working with Kappa Kappa Psi students and asking them to confront the musicianship problem, I often ask them what it means to be a good musician. If I were to summarize the definition provided by students, good musicians are those who show up at band on time, who are dependable, and who try hard. These definitions avoid confronting what musicianship truly means. Students often generalize what it means to be a good band member (which, incidentally, should include being a good musician) and use it to explain musicianship. Being on time and having a good attitude is important, but they do not cover the expectations for good musicians.
A definition of musicianship must be connected to performance so it can be related back to bands and acknowledge the importance of playing an instrument. It must also be concrete enough that it can be operationalized, allowing students to design programming around improving as musicians. A definition of musicianship must account for listening to good music, and it must account for emotional and aesthetic responses to music and to music-making.
A Functional Definition of Musicianship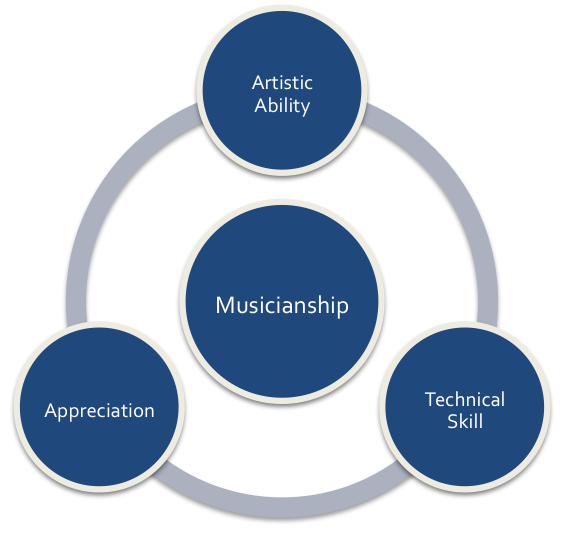 These three areas (performing and playing, listening, emotional and aesthetic response) fit neatly together in a model that can help us understand musicianship. Each is an equally important element, and each contributes to a balanced musician. To help avoid giving too much focus to any one element (perhaps because one is more comfortable or easier than the others), the model emphasizes co-equality by arranging these elements in a circle.
Appreciation: This is likely the most quickly grasped component. Appreciation refers to listening to music, attending concerts, and generally being in a musical environment. Many chapters organize these types of events, formally or informally. The challenge is structuring music appreciation events so they improve other components of musicianship. Good appreciation programming will expand musicians' artistic horizons, foster understanding of music theory and literacy, and motivate to achieve greater technical skill.
Technical Skill: This refers to the "nuts and bolts" of playing the instrument. Good technical skill, or technique, includes proper embouchure, fingering and articulation dexterity, posture and breathing, and tone quality. When students say they want to play their instruments better, they usually mean technical skill. Unfortunately, too many students have only a vague understanding of how to improve technique. Good technical skill programming will help fellow musicians to self-diagnose weaknesses in technique and provide them with concrete strategies to shore up those weaknesses.
Artistic Ability: This is the most abstract of the three components. Being a musician is more than playing the right note at the right time with the right tone. Good musicians are artists. They use music to make meaning of the world around them. To use an analogy, if being able to play an instrument is babbling, then being a musician is having a meaningful conversation. Good artistic ability programming inspires musicians to say something about themselves through musical performance, to understand the composer's intent, and to synthesize the composer's message with the performers'.
Implications for Chapter Activities
With a more functional definition to guide us, Kappa Kappa Psi can now have productive conversations about musicianship. A more concrete definition should be incorporated into chapters' identities, and drive service, recruitment, and membership education. Chapters should be challenged to reframe service projects as making fellow band members more technically proficient, more artistic, and more open and appreciative in all aspects of performance.
As Brothers, we are charged to not only make ourselves better musicians, but to make everybody in college and university bands better musicians. We can and should do more to improve all of our performers in all of our bands. This means more master classes, guest conductors, recitals, small ensembles, chamber ensembles, and concerto competitions. These should not always be marketed to music majors, either. Your band directors want a rich performance environment for everyone in the band program, whether or not they are music majors. More fundamentally, your band directors want a band made up of technically proficient artists who appreciate the aesthetics of band performance.
Finally, recognizing the components of musicianship bring us to the inevitable conclusion that students in Kappa Kappa Psi should be playing as much as possible. This often means a full academic year of band enrollment. If we truly support the existence and welfare of college and university bands, then we absolutely must be in those seats playing. To not be in band all year is, at best, short sighted. After all, any time we are not playing, our technical skill is declining. To not be in band all year is, at worst, hypocritical because it is clearly neglecting our core mission and core values. As an organization, we must understand that a full year of band may not suit every academic major and we must accommodate accordingly, but we must not let that be an excuse. Chapters should be challenged to find creative ways to engage each other in year-round playing and musical improvement.
Conclusion
Pinning down a functional definition of musicianship allows Kappa Kappa Psi Brothers to stop guessing about expectations by band directors and fraternity leaders and to act. There is now clear direction for new chapter identities and passion for college bands. Furthermore, this definition opens up new realms of service and opportunities to meet band directors' fundamental needs. Chapters can now recruit and educate new members with a precise concept of musicianship.
More importantly, by embracing this model, Kappa Kappa Psi chapters actually meet fraternal ideals established by the ritual and the preamble to our national constitution. Chapters can fortify Kappa Kappa Psi's relevance in the college band movement and validate our fraternity's legacy.