The Gift of Life Membership, Part 2
By Karissa Longo
In the first installment of our Life Membership feature, we heard from two Brothers who received Life Membership as a gift. Today, we flip the script with two stories from Brothers who have given Life Membership.
Dr. Malinda Matney is a Kappa Kappa Psi Life Member and Past National President. She currently advises the Nu chapter at the University of Michigan. She gifted a Life Membership to her partner, Kimberly Baumgartner, in 2015.
"Kimberly is an honorary member of Kappa Kappa Psi and of Tau Beta Sigma at the University of Michigan because the chapters understood the work she does in development for the bands," Malinda explained. "Without resources, a band can't keep going, and she makes sure that Michigan's marching and athletic bands have everything they need, and that the students feel supported. She does much more than raise funds and keep alumni connections going in the band program, and the students definitely see that." Malinda gifted Life Membership to Kimberly because she "wanted her to always not only feel welcome from me to all the events of the Fraternity, but to have her own connections."            
According to Kimberly, Malinda's gift has done much more than that. "This life membership meant a lot to me because I know how much Kappa Kappa Psi means to Malinda," she says. "[O]nce I had the life membership, I was able to go to many conventions and see first hand the work that the students and alumni are putting into college bands across the nation. I'm proud of our students at Michigan, and impressed with the devotion and care that I get to see. I can understand why Malinda has devoted a lot of time and care — this is a special group of people."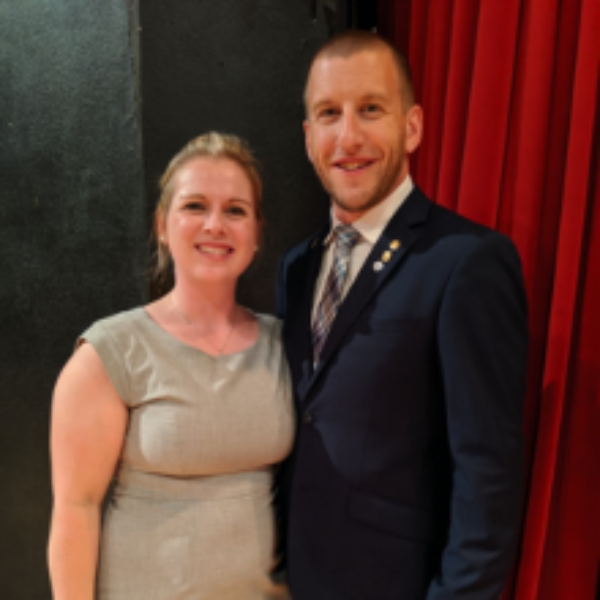 Last week, we heard the story of Preston Ramsey's Life Member Littles, Erin and Ashley. But before Preston was earning and gifting Life Memberships through the Alumni Giving Program, he made a special gift to his then-girlfriend, Tammi. Preston and Tammi met at the 2009 NCD Convention in Toledo. "I was blown away by her energy and forwardness," says Preston. "She had been a chapter president, district president, and National Convention delegate. It was her dedication to the District and her chapter that inspired me to gift her a Life Membership for Christmas in 2012." Preston went on to add that many of the qualities that make Tammi a great Brother were also the qualities that caught his eye romantically. "It was her spirit and love that encouraged me to pursue her as a partner," he said. "We've been together since 2009 and marries since 2014."
Perhaps the reason Preston has made a habit of gifting Life Memberships is because he understands first-hand the impact that these gifts can make. "I was fortunate to actually have my Life Membership gifted to me by my home chapter!" says Preston. "At that time, graduating senior members of [Beta Kappa] could write a letter indicating why they felt they would be deserving of a Life Membership paid for by the chapter. While I didn't necessarily think I was deserving, I didn't see the harm in applying for it. Receiving my Life Member from my home chapter was, and is still, one of the greatest honors I have ever received as a member of Kappa Kappa Psi."
Receiving a Life Membership inspired Preston to serve as a National committee member and National Headquarters Staff member, and to run for National Leadership positions. "If it were not for my Life Membership, I'm not sure any of these things would have even been on my radar," he said.
If you would like to honor someone special in your life with a Life Membership in Kappa Kappa Psi, there is no better time. On September 23rd, Life Membership fees will be discounted by 20% to $400. We hope you'll take this opportunity to honor an outstanding Brother with an unforgettable gift.