50 Years of Service
by Alyssa Serville, Gamma Kappa, ΤΒΣ |
This coming May 17, the Gamma Kappa chapter of Tau Beta Sigma at the University of Connecticut will be turning 50 years old! It truly is a great milestone for us as a chapter. Although none of the current active sisters were around when we were founded, we have learned through our history and through the stories of those who came before us about how much we have grown and how much we have to be thankful for with the chapter we have been entrusted with.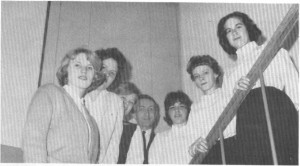 This past fall at our annual UCONN Homecoming Game, many Alumni of the UCMB joined us in the stands and on the field. Of those alumni was our very own charter president, Ellen Marie Hodgson. The news spread like wildfire amongst the active sisters in our band. We were so excited for the opportunity to meet one of our own charter members and hear the stories and learn about the way things used to be.
For her first time, in a long time, being back around the band and the chapter, things were a little overwhelming for Ellen. She didn't realize that we cared so much about our history that we even knew who she was. To us, she is family. She is one of the people who helped bring TBS to UCONN, providing us all with one of the greatest opportunities that we have all had the pleasure to experience. To her it was an opportunity to serve her band and to be a part of an organization that gave her and a group of her friends the means with which to go beyond the realms of just serving the UCMB.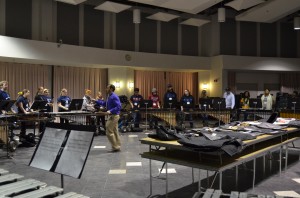 One project that was started within the first couple of years of Gamma Kappa's chapter was helping out at the Eastern Regional Music Festival; a service project that we host and help run every year now at UCONN. While Ellen didn't getinto too much detail about what they did then to help, what she told us is similar to what we still do for them every year. When the Eastern Regional Music Festival comes to the University of Connecticut, we work alongside our brother chapter to setup rehearsal rooms, change the seating arrangements between ensembles at the concert, provide instruments, and even some snacks and lunch for those in attendance. It is a unique opportunity that we are given that was started many years ago.
As we have been nearing our 50th Anniversary, we have found many things that were set up for us by those who came before us. While the faces in the chapter have changed, our ideals, our responsibilities, and our passion to serve the bands have been passed down over the years within our traditions and our commitment to the sorority.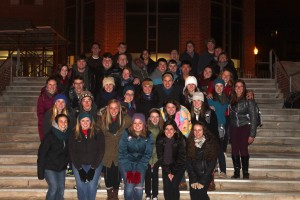 As we honor our 50th Anniversary, Gamma Kappa is bringing back some fun traditions such as making Valentines for the entire UCONN Marching Band and hand delivering them, while also creating new traditions. We continue to grow as a chapter and do our part For Greater Bands. We cannot wait to celebrate 50 years with all of our alumni and to look into the future for another great 50 years of doing what we do best: Service.