Nu's New Leadership Development Program
by Emily Jablonski | Nu – ΚΚΨ | University of Michigan
At the conclusion of the last academic year, the Nu Chapter of Kappa Kappa Psi began its annual series of reflection activities concerning the past year's work. We analyzed both what went particularly well, and attempted to determine which areas may need more improvement. In an effort to continually strive for the highest, we were asking ourselves what steps we could take to move forward as a chapter.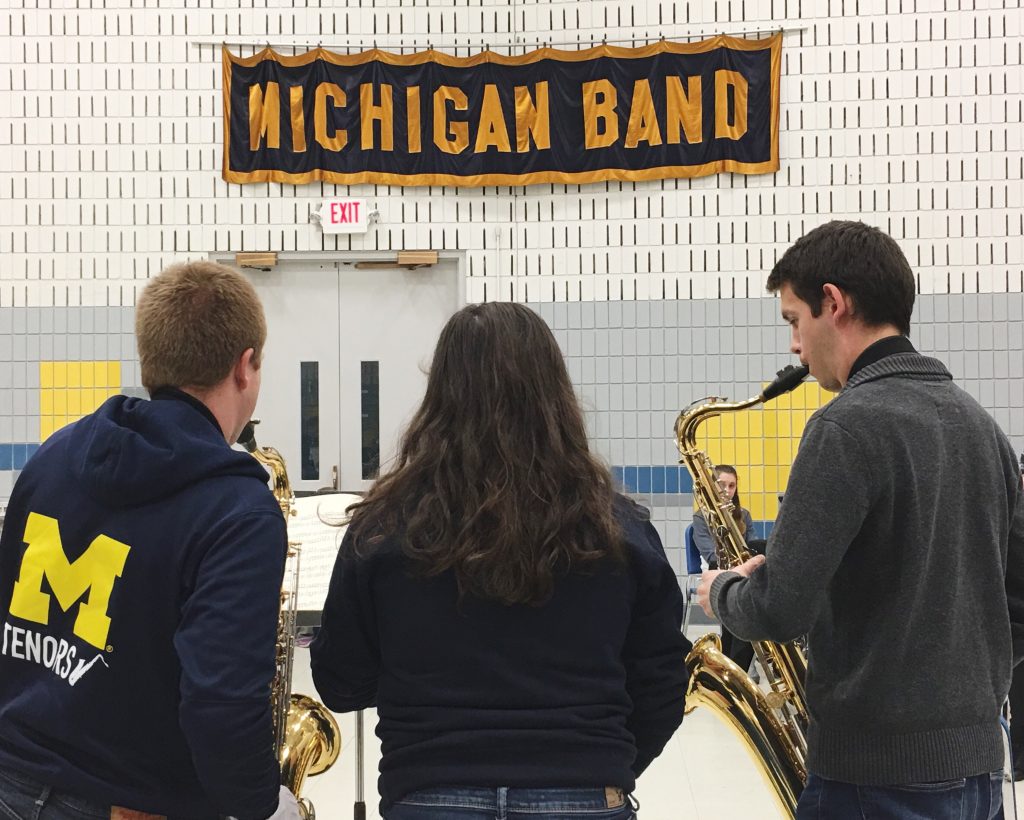 We discussed our service, our brotherhood, our musicianship, and our leadership development practices when thinking about what could be most improved. While there is always room to strive across the board, we felt that our focus on leadership development in particular needed to be sharper.
In response to this conclusion, Nu developed a brand new leadership development program. Run by our Continuing Membership Education (CME) committee, this program encompasses biweekly events focused on developing some facet of leadership related to our purposes. For example, one event within the program was a resume and interview workshop focused on how to incorporate our Kappa Kappa Psi experiences into our professional lives. Another involved an activity in which Brothers were divided into teams related to their personal goals, within which we discussed our current challenges and how we can help each other overcome them. Our CME committee teamed up with our Musicianship committee to help organize the next development event, where Brothers performed in small ensembles together to continue efforts to improve our rehearsal and performance techniques by learning from each other.
Potentially our most impactful leadership development opportunity this year, however, involved something called StrengthsQuest, a nationally recognized and well-researched test developed by Gallup. The research behind the test, which involved interviews with thousands of individuals in leadership positions around the globe, revealed that people who know their strengths well and choose to focus on those strengths instead of their weaknesses are more likely to be successful.
The results were used to create a series of 34 different strengths encompassing the wide range of leadership skills observed in the research. The strengths within the assessment include things like Consistency, which describes an individual who values equality and balance, Empathy, which involves the ability to understand emotions and communicate them well to others, and Strategic, a strength which can be translated as being faced with many options at once and being able to navigate the paths to find the best one for the situation, for example.
Our student organizations office offers not only the opportunity for campus organizations to take this test, but also for a facilitator from the StrengthsQuest program to run a workshop discussing the results. There was one catch: the cost of the test for each Brother and the workshop was well out of reach of our chapter's budget. However, truly feeling that the benefits of an assessment like StrengthsQuest and the following workshop could not be understated for where we stood in regards to leadership development, we applied for National Leadership Funds as a chapter.
We are so thankful to the National Council for approving this request for funds which granted each Brother the opportunity to take the assessment and participate in the workshop. Brothers received detailed feedback from the results indicating their top five strengths and how they materialize in different situations.
The workshop we attended afterward focused on what each of these strengths means for us, why we should be focusing on our strengths, and how to avoid mislabeling strengths as weaknesses (labelling those strong in Empathy as sensitive, or those strong in Consistency as risk-evaders, for example). It taught us how to fully value our strengths and the strengths of our Brothers, and how to ensure we are capitalizing on them to the fullest extent.
Moving forward from this experience, Nu now has more knowledge about how we as individuals and as a chapter operate as leaders. We feel it solidified our leadership program's first year and provided us with invaluable information to help us move farther down to path to becoming more effective and harmonious leaders in band and in life. We hope to continue to evolve this program to offer to our Brothers and our community more opportunities to grow, and we thank the National Council for helping us come closer to achieving this goal.