An Interview with Mr. Melvin Miles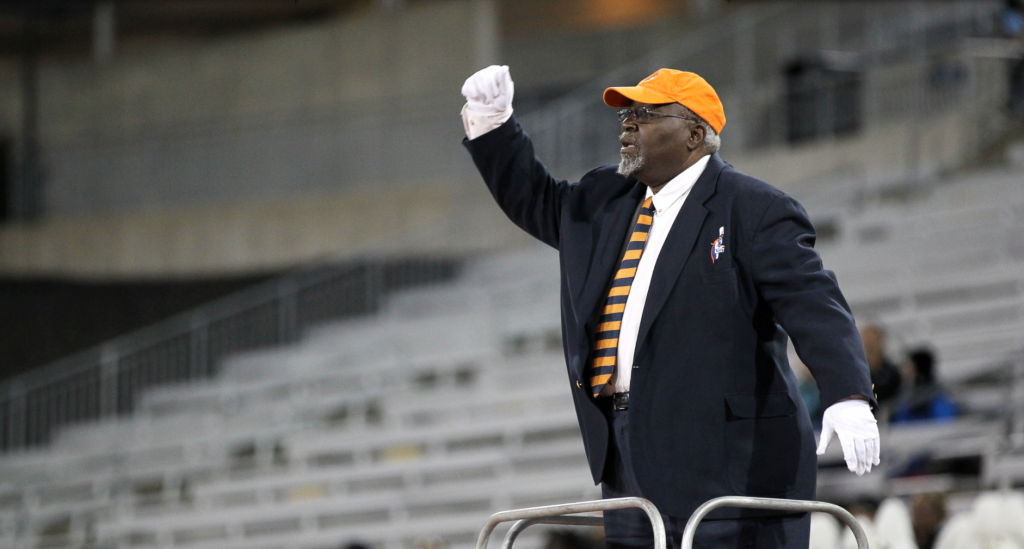 Although February is over, that doesn't mean we have to stop celebrating black history, especially within our Fraternity. We are always looking to recognize and honor black leaders both in our Fraternity and HBCUs to highlight their perspectives and experiences in Kappa Kappa Psi. This week I had the distinct honor of sitting down with Mr. Melvin Miles (Past National President and Past Chairman of the Board of Trustees). Mr. Miles is currently in his 49th year serving as the Director of Bands at Morgan State University in Baltimore, Maryland. As Director of Bands, he conducts the Morgan State University Symphonic Winds, Concert Band, and Jazz Ensemble. He also serves as the director of "The Magnificent Marching Machine" and the "Bear Band".
Mr. Miles served as the 34th National President of Kappa Kappa Psi from 1993-1995. He has also served as National Secretary-Treasurer (now Vice President for Programs) and Vice President of Colonization and Membership (now Vice President of Membership and Expansion). In 2003, he was the recipient of the Distinguished Service to Music Medal. He is now the sponsor of the Eta Gamma chapter at Morgan State University.
We could go on and on about the service Mr. Miles has done for both the bands at Morgan State and our fraternity, but instead we will let his interview speak for itself. Enjoy!

What has Kappa Kappa Psi meant to you?

Mr. Miles enjoys seeing the benefits and leadership opportunities that Kappa Kappa Psi presents to students. He has been able to foster connections throughout the country that would have otherwise not been possible.

What has the past 49 years at Morgan State University meant to you?

Mr. Miles became a student at Morgan State in 1970, and he considers it the best decision he could have made. In his time as the Director of Bands, he has had the opportunity to see many people grow. He sees college as a whole as a transitional period, but more importantly, "band has done a lot to transform people from young adults to adults." It has been a pleasure for him to be a part of this growth.

Upon retiring, how will you let music play a role in your life?

"I am just retiring from being a band director, not from being a musician." The work will not stop for Mr. Miles, it will just simply take a different form. He is an avid arranger and producer, and will continue to pursue these passions among a plethora of other projects.

What has been your favorite memory at Morgan State?

In 49 years at Morgan State, it was hard for him to pick just one memory. First and foremost, Mr. Miles met his wife at Morgan State. As the Director of Bands, he has had the opportunity to travel to the Macy's Thanksgiving Day Parade in 2019 where "The Magnificent Marching Machine" performed. He has also had the opportunity to travel with the band to meet and perform for President Obama.

What has been your favorite Kappa Kappa Psi memory?

At the 1995 National Convention in Orlando, Mr. Miles was caught off guard by a surprise guest. That guest was none other than Mickey Mouse. Up until this point, Mr. Miles did not realize how big of a deal the mouse would be. There was singing and dancing, and he could only describe the commotion as "it was as if Mick Jagger or Michael Jackson had walked in."

How has music impacted your life?

"It's who I am. It's my life's work and a part of the fabric of my family." Enough said.

What does the Under Armour partnership mean for Morgan State University and the bands?

Mr. Miles believes that this is a great opportunity for the school to have this partnership. He hopes to expand on what they offer and utilize it. Under Armour is based in Maryland, and this is a part of their efforts to support the state. For more information, visit https://www.underarmour.com/en-us/t/black-history-month/.

In closing, Mr. Miles is excited about the direction Kappa Kappa Psi is headed in. He is looking forward to seeing the first Black conductor of the National Intercollegiate Band in 2023. He feels that Kappa Kappa Psi has striven to look like America through our diversity in leadership and in our chapters. He attributes this to the fact that students are leading and pushing for that change. He is grateful that Kappa Kappa Psi introduced him to the rest of the country, and he hopes the fraternity will continue to move forward.