A Brother's Role in the Mars Exploration Program
Shooting for the stars is something that comes naturally to Brothers of Kappa Kappa Psi, metaphorically and literally. When Honorary Brother Neil Armstrong set foot on the moon decades ago, he played an instrumental role in the advancement of space exploration – but it didn't stop there. Today, numerous Brothers are leading lives as astrophysicists, aerospace engineers, and beyond. In honor of Women's History Month, we wanted to highlight a remarkable brother making an impact in the space exploration field.
Erin Castello is a Hardware Quality Assurance Engineer at the NASA Jet Propulsion Laboratory in California, the "leading center for exploring where humans cannot yet reach." Castello is also an alumni brother of the Iota Pi Chapter of Kappa Kappa Psi. Most notably, Castello has played a major role in the Mars Rover mission. She said, "The Mars Rover is a part of a series of missions with intentions of bringing samples back from Mars to Earth, which would lead the way for us to hopefully send humans to Mars."
The Mars Rover launched in July 2020, a significant and exciting moment that brought a little light in the midst of the pandemic. It landed on the surface of Mars just this past February, which Castello played a major role in. "I work in hardware quality assurance, so a lot of my job is verifying that everything was done correctly and that when we launched this, when it ends up millions of miles away, we know that everything is going to work the way it's supposed to. The first thing that I was the lead on was the descent stage, so that's the sky-crane part that lowers the rover down onto the surface. I was responsible for verifying everything on the mechanical and propulsion system. That's all very, very critical with landing us onto Mars."
Castello also had the responsibility of working on the sample caching system. "On the rover, it has cameras and instruments that are capturing images and measurements on the surface to help determine the best locations for sampling. We have a whole assembly in there that's job is to collect and process the samples. After it collects them, the samples are hermetically sealed so that we know those samples are contained and safe, and the next mission will be gathering those samples and bringing them back to Earth," Castello said. "I was on the sample caching system team, which is the part of the rover that has two different robotic arms that are drilling into the surface, collecting the samples, and processing the samples. Finally, I was also on the team that was involved in the final integration and testing of the spacecraft before it was launched."

I definitely have a tendency to be striving for things that almost seem unachievable at times, and this mission really fits into that category." – Erin Castello
Sending a spacecraft through the atmosphere, into space, landing on another planet without any damage is an incredibly complex process, but not unachievable. "I definitely have a tendency to be striving for things that almost seem unachievable at times, and this mission really fits into that category," Castello said. "When we start talking about getting something to another planet, I feel like it was the perfect example of that. I was sitting there thinking about all this hardware I spent six years working on and how it's literally sitting and working on another planet right now. It's so fulfilling."
In the United States, only 13% of engineers are women, but the number is climbing. When asked what is it like to be a woman in a male-dominated field, Castello said, "In general, JPL has been making a really big push for diversity and inclusion, and really making sure that everyone can have their voices heard and feel comfortable in the room no matter what. I think some of the things that have been really important to me is being involved with other networks of women and to be able to share experiences and to know that if you're going through something you're not alone in it. Especially as you get into areas where there are less women, it can be really important to have that support system there."

Never be afraid to ask questions and have a voice. Being confident in your voice when your field needs it is really important." – Erin Castello

Engineering is a popular field of study for college students, but it still maintains the reputation for being a difficult major to study. Castello also gave some advice to those studying engineering. She said, "A lot of times there's such a pressure to stop doing extracurriculars, but having that balance is so important. Keeping music, or whatever it might be, is important to keep yourself mentally and emotionally healthy."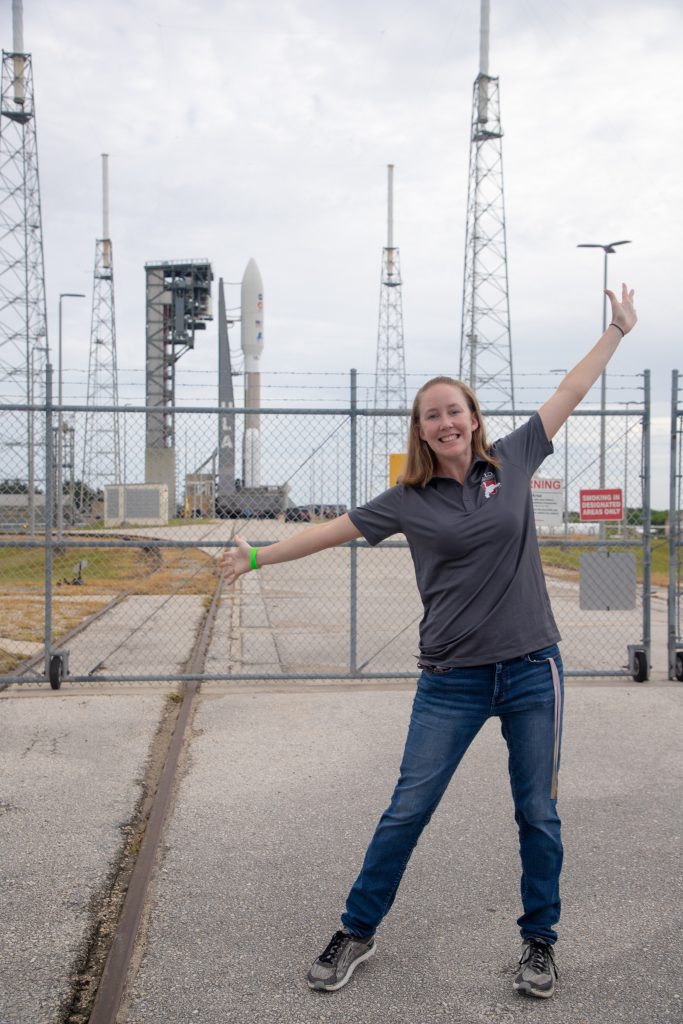 When Castello was studying engineering in undergrad, she played tuba in the marching band and was a brother of the Iota Pi chapter. Since graduating, music still plays a vital role in Castello's life. Through the Cal Tech Symphony that she was a part of for a few years, Castello met a small polka ensemble that plays her tuba with.

"One of the things that I really got from being involved in band and music in general, and especially with Kappa Kappa Psi, is the ability to be within a group of people that are so different, and to listen and understand where people are coming from, in order to bring people together for a common goal," Castello said. "In Kappa Kappa Psi and in marching band, you're really building up on that idea of working with all these different people, but you have to come together for this one really awesome show, or whatever it might be. For us, it's bringing our rover to Mars and having it work successfully."

While the Mars Rover has successfully landed, the mission has only begun. "I'm going into this next mission in a bit of a different role, more of a management role, so that's really exciting to me," Castello said. "Additionally, the science that can come back from this can really pave the way for human exploration. This will pretty much allow us to bring back samples that we can analyze in high-tech laboratories here on Earth to be able to say if it's okay to send humans. When it comes to a mechanical side, this mission is just so complex, so being able to accomplish this particular mission will be very exciting. We're literally sending a rocket off of the surface of Mars which has never been done before. There are so many things that can go wrong, so it makes the reward that much higher."

When asked what her favorite part of her job is, Castello said, "My favorite part is being able to share it with other people. Getting other people excited about space exploration, especially the future generation, is just so rewarding."
You can learn more of what Erin and the Mars Rover are doing by visiting their website.