History in the Making: Dr. Nikole Roebuck
By Seferina Baca
Grambling State University is home to the World Famed Tiger Marching Band, and at its forefront is Dr. Nikole Roebuck. Roebuck has been a part of the Grambling State Bands for nearly twenty-six years, and is an alumna of the Lovely Ladies of the Zeta Mu Chapter of Tau Beta Sigma. She is the first female Director of Bands and Music Department Chair at Grambling State.
February celebrates Black History Month, which is a time used to highlight black voices and issues that affect the black community, as well as educate the masses on important topics. This is followed by Women's History Month in March, which also serves as Music in our Schools Month. All of this led the National Communications Team to Dr. Roebuck. She is a Music Educator who exhibits love for music and the success of her students, with a green tea in hand.
Before becoming the Director of Bands of GSU she would have to pick up the piano in the third grade. In the sixth grade she would pick up the clarinet and fall in love with it. She would soon become drum major in junior high and in high school. Before a career in music was the route she would go, she originally wanted to become a nurse. It was her mother who said, "I want you to rethink of what you want to do when you go to college. Think of something you can do for the rest of your life and it won't necessarily feel like work." It was then that she decided to major in music at Grambling State. After graduating from Grambling in 2005, she received her Master's at University of Louisiana-Monroe, and her doctorate at University of Memphis.
After leaving Grambling she became a middle school director for several years. She spent her day at two different schools as an Itinerate, and the one thing she wanted was to be at one school. Very soon after, she went on to build a high school band program at Arcadia High School from the ground up, where the band room was previously used as a storage room. The new principal, who coincidentally had coached with her Grandfather-In-Law, wanted to start up the band once again and was led to her. With encouragement from her husband, Esonyo Roebuck, she took the job.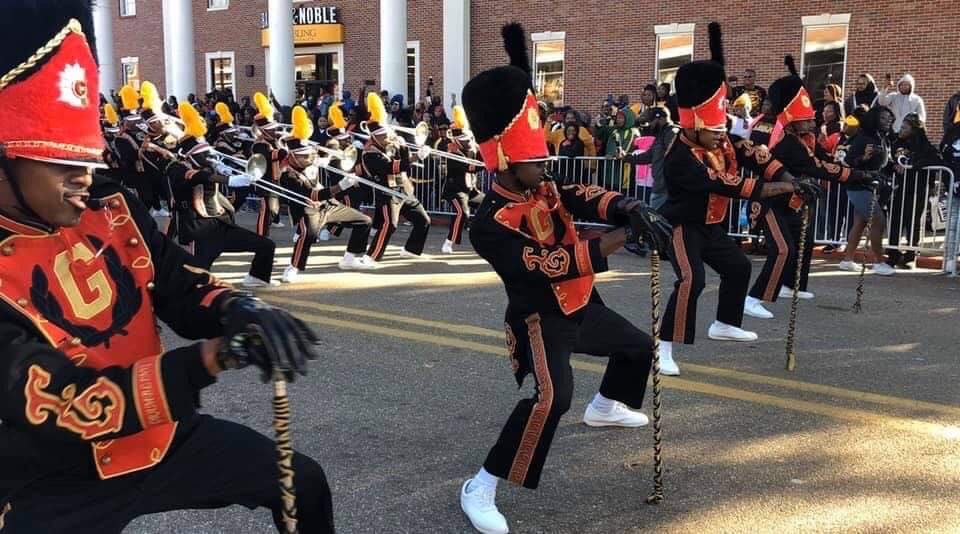 The band program at Arcadia would go on to teach her what it meant to be a band director. As years went on, the high school band was going smoothly. The band was attending solo ensembles and honor band, and the students were doing well, when a position at GSU opened. The former department chair asked if she was going to apply, but at the time Roebuck believed she was not ready. Truth be told, no one is ever truly ready for their dream job. With encouragement from all around and a leap of faith, she applied and got the position as the Associate Band Director. It was always a goal to go back one day, saying, "I think it is everyone's dream to one day go back and be on staff for their school." Spring '07 was the first semester as a professor at GSU for the then 27-year-old director. 
The World Famed is a band that consistently performs at a high level. They have been on stage at the Super Bowl, several Presidential Inaugurations, and traveled as far as Japan. Having become the Director of Bands in 2018, Dr. Roebuck has taken to setting a new goal for the students. Roebuck hopes that the retention rate is good and the graduation rate is even better, which comes before how the band sounds. "You're coming to Grambling first to get an education. The second thing is to march in the band." The second goal is to foster better musicians. How she wants the band to sound and the different music that the band plays is all on her vision board and is supported by the staff she has behind her, who she refers to as "The Power Team."
These goals have not been easy, nor does she expect them to be. The past year with COVID-19 has changed the lives of many and how college bands operate, thus the way she taught had to change. At the start of the pandemic you would see her putting up many assignments for them to do, such as taking performances from the previous season and having the students analyze and critique them. One day on a Microsoft Teams Call with them, the energy of the band shifted. "My kids are usually very talkative with me. I had to stop and not necessarily be the band director." She had to check their mental capacity. She credits this to being a woman and having different instincts than that of a man. The band is currently broken down into four separate pep bands as they have started the season for this Spring Semester. They are tested multiple times a week. To top it off, not all students are back due to personal and health reasons. Even today she continues to check on them because the pandemic has shifted the lives of many students in more ways than one.
Dr. Nikole Roebuck is a strong woman, and is history in the making. She has sacrificed much to get to where she is at today. Having had the pleasure to talk to her and pick her mind, I will let you know that the students of the GSU Music Department are in good hands. It is important to note that music education for black youth is important. All students deserve to have a connection to their teacher, much like the one that she has established with her students. If you, as the reader, are curious as to how you can support Black History Month and Women's History Month beyond their celebrated months, Roebuck will tell you stay up to date on the news, and read up on Black Historians that you might not know of. Stay in the know. You'll see Dr. Roebuck and the World Famed Tiger Marching Band perform very soon.