"Brother in a red suit" – Kappa Kappa Psi Representation at the Superbowl
By Michael Bradford-Calhoun
As an alumni brother of this organization, we tend to become siloed into how things were when we were active undergraduate brothers, reminiscing about the good ole days. Iota Zeta has always been a well involved chapter on varying stages and our alumni continue to strive, but our active brothers are proving time and time again – they're striving just as hard.

While scrolling through Instagram, after talking about the Superbowl with some alumni brothers from Zeta Psi – Virginia State, I noticed a familiar profile posing in a red suit and white face mask. It was my chapter brother, Bro. Bentley Tanner. Bentley is an active brother within IZ and serves in the Blue and Gold Marching Machine on the Drum Major squad, better known as Smooth Ignition.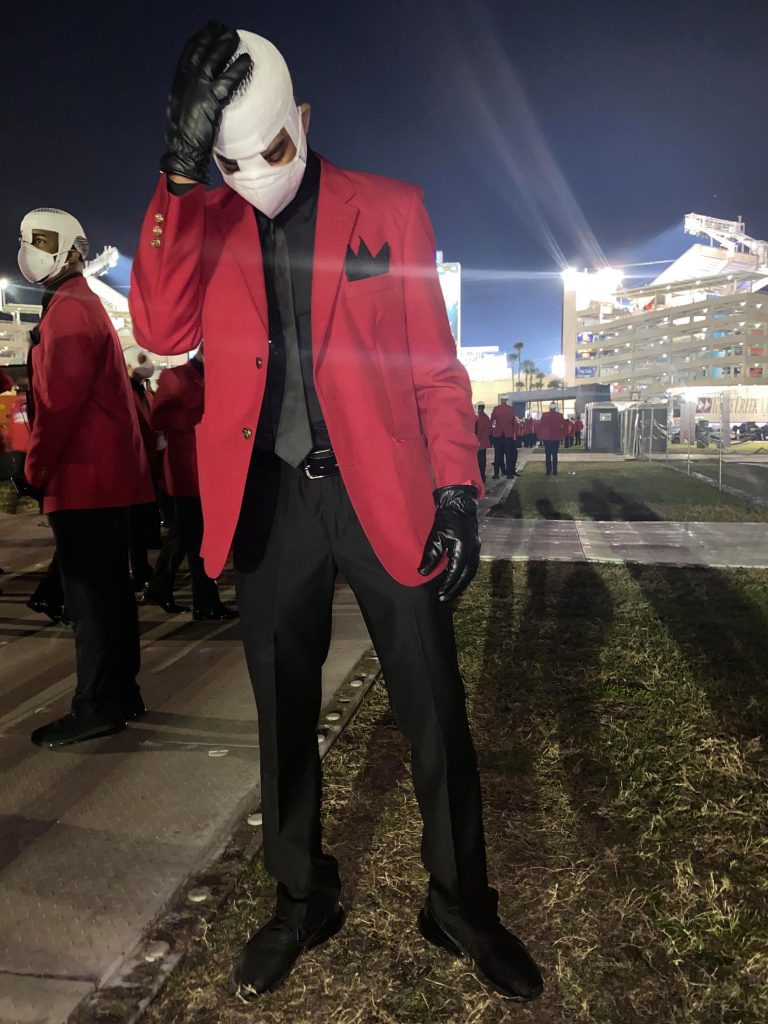 Before we go into the actual interview, let's talk a little bit about the Mighty IZ. The Mighty Iota Zeta Chapter of Kappa Kappa Psi, also known as the Insane Zoohouse chapter, was chartered on February 24, 1990, by 19 outstanding band members who, like their founding fathers before them, wanted to promote and serve their University Band Program. Colonized under Dr. Johnny B. Hodge, the band is now under the leadership of Dr. Kenneth Ruff, the present Director of Bands. The Iota Zeta Chapter was the 222nd chapter to be chartered. The chapter currently has a total of 232 members. Among our chapter ranks are several former Southeast District Officers including: Darius Smith, D'Javon Alston, Joseph Carey, Dareic Tinsely, Randy Hill, Dujuan Horton, and myself.

Now let's get down to business, here's a portion of the interview:

Me: "So, I'm here with my young chapter brother, ladies and gentleman Bro. Bentley Tanner."

Bentley: "What's going on, I'm Bentley Tanner, a junior, Information Technology student from Tampa, Florida and Spring 2020 initiate in the IZ chapter, within the Blue and Gold Machine program. I have served as Drum Major for the past two years and previously marched trumpet."

Me: "Man, you're making me feel old, I became a brother nearly 6 years ago, I can't believe it's been so long. What year did you come into the band? What made you choose A&T?

Bentley: "I came into the band in 2017. I first found out about A&T because of the marching band. The band was one of the points but as I did more research about the school and its history, it was a great fit."

Me: "Wow, well you went to North Carolina and North Carolina took you right back to Florida, how did you get connected to the Superbowl?"

Bentley: "Pretty much just a connection, my childhood friend Kahdre Walker, who I grew up with in our church marching band and was drum major in high school, he is an established professional dancer. He was already in the Superbowl performance, found out they wanted more extras and he reached out to me to see if I wanted to be in the performance. Of course, I said yes!"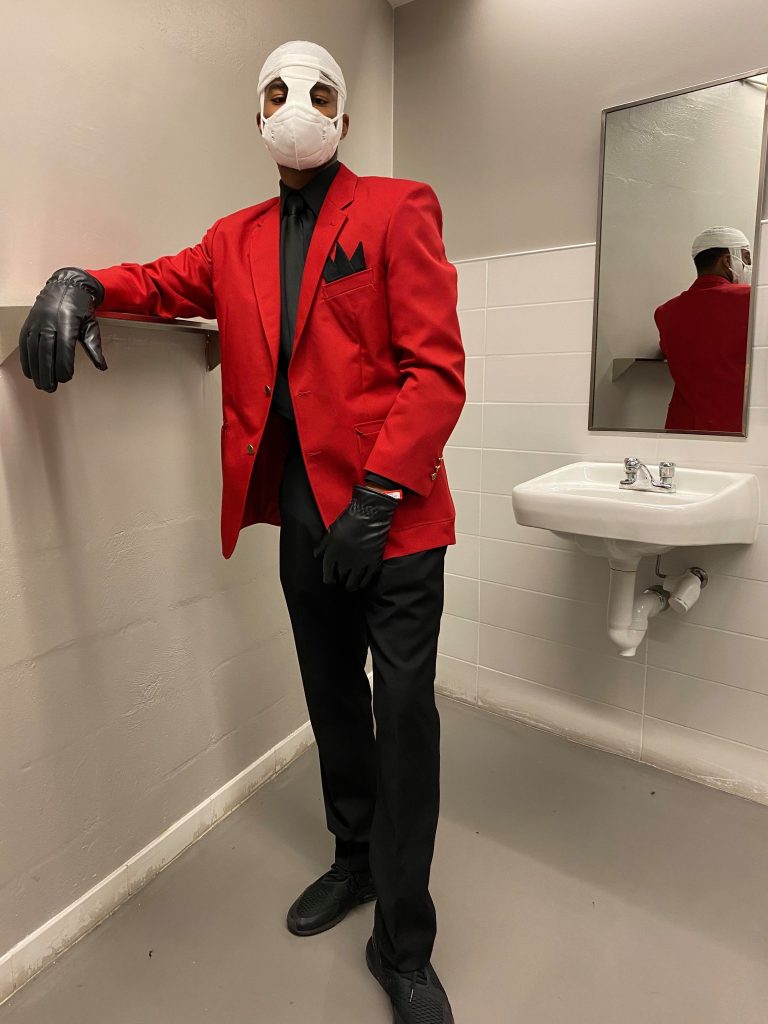 We went on to talk about the energy of being on that large of a stage, and no, unfortunately, he didn't get to meet the Weeknd but was still elated to be a part of such a momentous occasion, how being a brother and a member of an HBCU band prepared him for an incredible opportunity that he never saw coming. Bentley does not consider himself a dancer, just a performer, who also happens to have skills in IT, music, dance, and leadership.

For now, Bentley says he will continue working on his degree and being an outstanding bandsman, and in this he shares the spirit of our Founding Fathers. While none of them majored in music, they made an impact on the band world that would last well beyond their undergraduate years. This one performance represents years of tenacity and will leave a lasting legacy within our organization.

I shared how proud I was of him as an alumnus of the chapter. It served as a subtle reminder to stay connected to those who come after us – they need our support. "Being a brother is not a part-time commitment and doesn't end when you graduate." So brothers, let's increasingly support our undergraduates and enhance the legacy of our organization.

Forever Striving,
Bro. Michael Bradford-Calhoun – MBC
Spr' 15 Mighty Iota Zeta