Five Bands, Five Experiences of a Lifetime
by Viet Nguyen | Eta – ΚΚΨ, Ohio State University
2017-2018 North Central District Vice President for Membership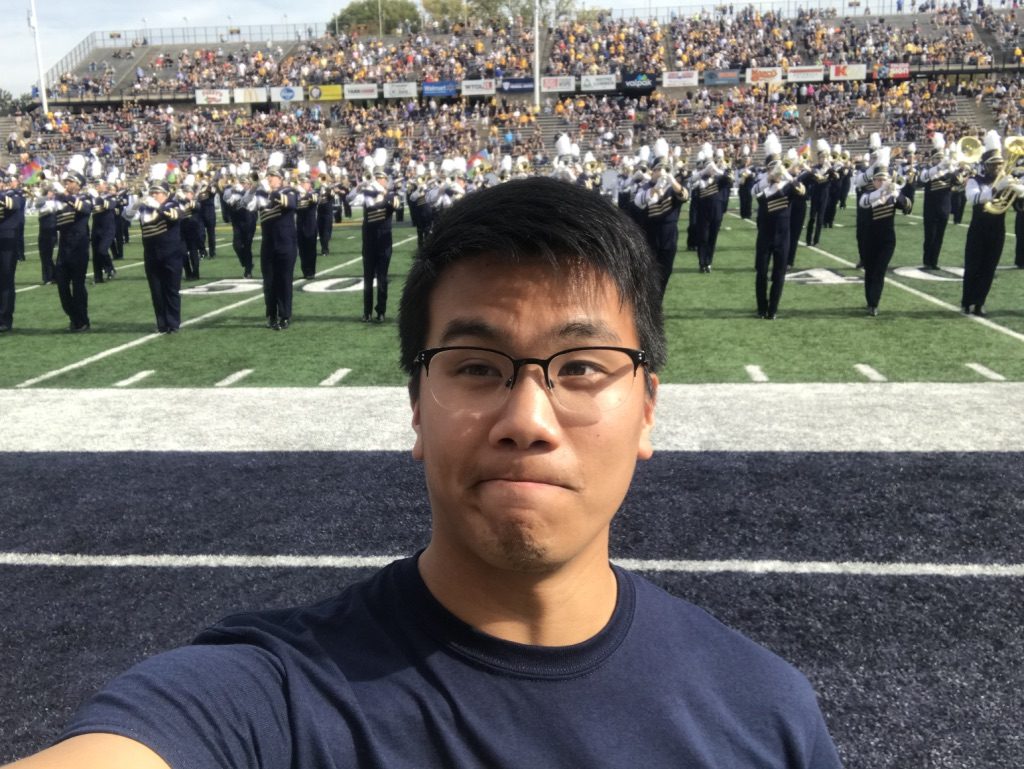 My name is Viet Nguyen and I'm an active brother of the Eta Chapter at Ohio State. I am the 2017-2018 NCD VPM, and an alumnus of the Ohio State University Marching Band. For the past four years I have played the mellophone and thoroughly enjoyed my time with the OSUMB. When my fifth year came, I expected to complete my final year with the band, but something came up that I never expected.
I was offered a job at Ohio State working for the University President. I had to put my future career first, so sadly I gave up my last year in the marching band. It devastated me being unable to march with an organization that gave me so much, so instead of sitting around watching the band from the stands, I decided it was time to do something more. Kappa Kappa Psi has allowed me to connect with many musicians, but I had not had the opportunity to see them perform. This made me wonder, "What is it like to experience the traditions of another band?" It was then I decided I was going to visit bands during the marching season, follow them around on game day, and witness their traditions as a spectator. I want to thank all of the people and the chapters that supported and welcomed me, and showed me what it is like to experience band through their eyes.
Alpha Zeta, Indiana University – Marching Hundred
Iota Lambda, Mount Union University – Purple Raider Marching Band
Beta Rho, Toledo University – Rocket Marching Band
Gamma Pi, Purdue University – All American Marching Band
Nu, Michigan University – Michigan Marching Band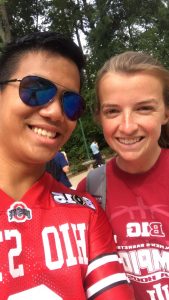 To the directors with whom I interacted, thank you for giving me your time, courtesy, and generosity. Through all my travels visiting these bands, I have been honored to experience the support of this brotherhood in a new and exciting way. My heart was touched by the efforts each brother made to make sure I had a place to stay, a ticket to the game, and an enjoyable experience in their hometown. Something I have learned is that I have not lost a final year of marching band, but gained an expanded insight into the diverse world of collegiate marching arts. I want to take time today to highlight one school where I embarked on my journey, Indiana University, where I visited the Alpha Zeta Chapter, and followed the Marching Hundred through their first game day of the season. If you are interested in reading or watching my adventures to the four other schools, I have documented all of my trips in video vlogs, and written blogs on my personal Facebook page.
Game Day
Now being in the Big Ten conference, it was interesting to have a game on a Thursday evening so I knew for that the entire day, I couldn't just follow Jason, a brother and friend who housed me, around while he goes to class. So I decided to tour the campus by myself in my scarlet and gray jersey. Now I give thanks to the AZ chapter for being so hospitable for I can usually handle myself when it comes to being on an adventure by myself, but I was maybe exploring the campus on my own for only 30 minutes tops before brothers of AZ reached out to ask if I was ok, came to my side to keep me company, and give me their own personal tour. There was an amazing fountain that VPM, Allie Newman, showed me, a gazebo that had a very interesting history behind it, and I really got the chance to see what it was like to be a student at Indiana University. After Jason's class was over, he brought me to some local places to eat, and he brought along some brothers and sisters of Rho as well!
Fast forward to their rehearsal. I felt out of place surrounded by Cream and Crimson, and band parents, but after some constant calls and hollering from brothers and sisters of the band, I stepped out to the sideline to watch the Marching Hundred up close. After watching their rehearsal, the OSUMB came around and started their rehearsal as well. They were planning on playing "America the Beautiful" and being able to listen to both bands was amazing. As the OSUMB was beginning to do their rehearsal, I started following the Hundred as they got set up with their pregame concert called "The Walk." Basically, it's a musical concert for the crowd and to hype up the football team as they begin walking to the stadium. Wow, is one word I can explain this concert. The band really knows how to get you up on your feet and you can just feel the energy gleaming off of each marching band member. Afterwards, they got their dinner hosted by the band parents and the Eta Chapter and Alpha Zeta Chapter got to meet up and sing the hymn.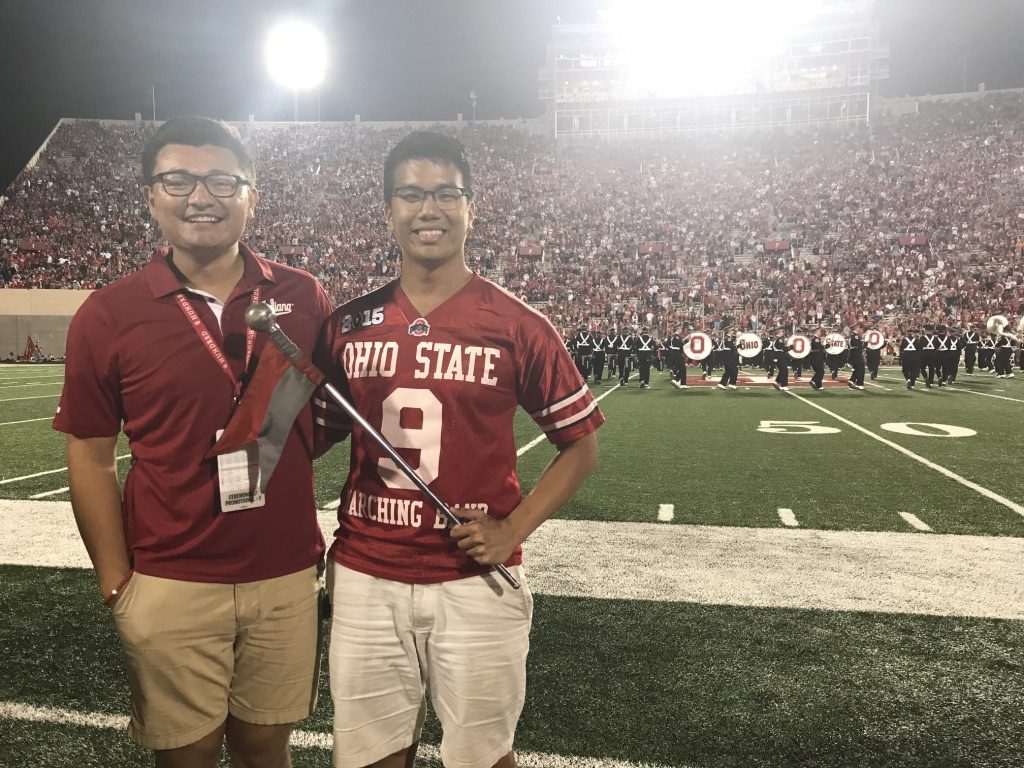 Halftime
Once halftime came along, past NCD President, Bang Co, started to text me to invite me onto the field for he got me field passes to watch both bands during halftime. I will forever thank his generosity for having me come down with him. The OSUMB's theme was Indiana favorites and the Hundred's was Michael Jackson hit songs with a dance to Thriller! The crowd received the band dancing extremely well. The crowd was so loud you couldn't hear yourself think. Absolute amazing job to both the OSUMB and the Hundred for an amazing performance. After the game, the Hundred held a post-game performance and their spirit was still high. They played their signature song "Sing, Sing, Sing" and kept their spirit hair. My favorite thing about the end of the day was as the band paraded back home, brothers and sisters alike reached out to say hi and called out my name as they marched by me.
After that day, it started a chain reaction, a fire some could say never ended. I enjoyed watching the Marching Hundred so much, I wanted to keep visiting more bands. I wanted to watch and meet more brothers in their prime and perform their heart out. The pictures that I shared are from the other bands I visited and you can tell by the smile on everyone's face that we truly enjoyed each other's presence. You never know what the next adventure will be for you. This is my story how I kept my musical spirit strong. I'm writing this article today to not just showcase my adventure, but to show you the power of this brotherhood. We all come from different backgrounds, had different experiences, but the one thing that binds us all together is music, for music truly is the greatest of the arts. This is my story of how I saw the loving nature of this brotherhood and this is the reason why I love this fraternity. Always strive for the highest.